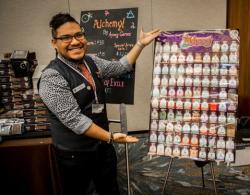 Arisia is bringing back a big hit from 2016, the Indie Game Expo! This year, it will be bigger and better! Renamed the Arisia Indie*Expo, it will include the Artists & Authors Alley, along with comic authors and artists, makers, and of course, game designers of all stripes. These creators will be on hand to display their projects and works, to show you how to play their games, to sign things you buy, and to talk with you about their amazing creations.
The Arisia Indie Expo will be held in the Grand A Ballroom
Saturday: 10:00 AM - 7:00 PM
Sunday: 10:00 AM - 3:30 PM
List of Participants
You can find a list of some participants in the Indie*Expo on our details page.