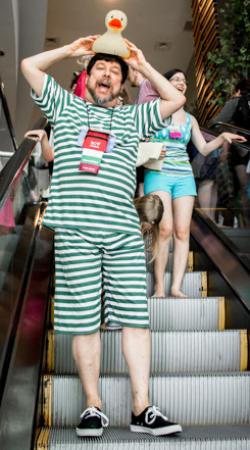 General: Wi-Fi - Hotel - Room Cancellations - Party Hosts - Suites
Special Requests: Accessible Rooms - Cots, Cribs, Fridges - Special Placement - Connecting Rooms - Waiting List
Wi-Fi
The Westin has free WiFi in their hotel lobby, but charges for WiFi in the meeting rooms. Westin hotel guests will be given an account number to use WiFi in their hotel rooms at no charge.
The Westin Boston Waterfront
All of Arisia's functions and parties will be at the Westin Boston Waterfront Hotel. The Westin has more Kings than Doubles.
Arisia has blocked most, but not all, of the rooms at the Westin. We will be sharing some of the guest room floors with non-Arisia guests. We have an Active block (noisier, near parties), a Quiet block (rooms further away from parties), and a Staff block, all of which are arranged to include both King and Double rooms. While we will have some floors that are all specifically active rooms, every hotel floor (including those that are mostly quiet or mostly staff) have suites that might contain parties.
The Westin (and fire code) does not permit more than four people to share a hotel room.
Cooking food in hotel rooms is not permitted. The rooms do not have the necessary ventilation to deal with cooking odors. The only exception to this rule is for medical needs. There is a nearby hotel that have full kitchens (including a stove top) in their guest rooms.. Please contact the Innkeeper (@email) for more information.
The Westin does not permit smoking anywhere in the hotel. There will be a $200 cleaning fee charged for smoking anywhere in the hotel, including guest rooms. This includes vaping and cannabis.
Make reservations at the Westin using the Arisia's reservation pages for our event, located in links at the bottom of this page. You should receive an email with an acknowledgment and a confirmation code. Save this information.
Room Cancellations
Please contact @email to cancel a room. Do not contact the Westin to cancel a room. This way we can assign your room to the next person on the waiting list. Please include your confirmation code. Cancelling too close to the event may incur a fee; please cancel as soon as you know you can't make it!
Party Hosts
If you would like to host a party (open or closed), please go to the Suites and Party Host Instructions page. If you have any further questions, please contact @email.
Suites
Suites at the Westin are limited and will be allocated by the second week of November. Please follow the instructions at the Suites and Party Host Instructions page, even if you're not hosting a party by October 16th if you are interested in reserving a suite. All suites have King beds. Some of the suites have sofabeds as well.
If you have any further questions, please contact @email.
Special Requests
You need to make a special request if:
you need a handicapped accessible room
you need a roll-away cot or a crib
you want to be put in the family block or the low floor/ shabbat block
you want to make another special request about where your room is located or be placed close to someone on a different reservation
you want connecting rooms (you need to reserve both a king and a double)
you need to modify your reservation in any way
All special requests must be made by Dec 16th.
Handicapped-Accessible Rooms
The Westin has 16 King rooms and 15 Doubles set aside for those with accessibility needs. All such rooms have larger doorways and accessible fixtures in the bathroom. Some of these rooms have a bathroom with a tub and hand bars, and others have roll-in showers.
If you need an accessible hotel room, please make a standard reservation first, then request an accessible room through the Special Request Form.
Cots/Rollaways, and Cribs
Please request these add-ons through the Special Request Form. Requests made on the Westin's web site during the room registration process will not be accommodated; you must use our request form. The deadline for requests is December 5th.
King rooms or suites (but not doubles) may request a single cot. There is space to bring your own inflatable bed in most rooms as well.
Any type of room may request a crib.
All guest rooms now have small fridges, so you no longer need to request a fridge.
Family Block
If you want to be housed in the Westin Hotel close to Childcare and close to other families with children Fast Track age and younger, you can request placement in the family block.
Make a Westin reservation for the active block
Fill out the special request form and specify family block
Placement in the family block does not guarantee you a babysitting membership, or vice-versa. See registration for information about how to purchase a babysitting membership.
Special Placement (Shabbat, Staff, etc)
If you have a request for special placement of your room, please use the Special Request Form to let us know. Examples of special placement are low floor, close to Staff Den, close to babysitting services (family block), or near a specific party suite. Please reserve a normal room before making a special request.
Connecting Rooms
All connecting rooms in the hotel connect from a King room to a Double room via a door in a shared wall. You cannot get two Doubles or two Kings that connect. To request a pair of connecting rooms, please make reservations for both a King room and a Double room (both rooms must be in the same block, active or quiet), then fill out the Special Request Form including confirmation numbers for both rooms. Connecting rooms requests are subject to availability, and the deadline for requests is November 30th.
Waiting List
We expect The Westin to sell out of rooms. However, we expect some rooms to free up as people's plans for Arisia change, and convention functions are solidified. Please fill out our Special Request Form to be added to the waiting list or request a modification to your reservation.
Once the Westin sells out of rooms via the online room reservation system, that does not mean that no more rooms are available. Because of our unique blocking requirements combined with the constraints of the Westin's booking systems, less than the full inventory of rooms available to Arisia are available for reservations via the online system. While we have taken steps to ensure more successful reservations, we still expect there to be some people who are not able get a room at first. Don't Panic. We guarantee that the first 30+ people on the wait list will get a room, though it might not be the exact room type or block that they want, and we expect that those further down the list will get their room requests fulfilled. Some wait list requests may not get filled until the week of the convention. If you have requested a room via the wait list, but no longer need that room, please e-mail @email to have your name removed.